Philipp Hainhofer (1578–1647) was an Augsburg merchant, art dealer and political agent. His Großes Stammbuch comprises 227 numbered pages containing all manner of entries inscribed on vellum or paper. Described as a 'book of friendship', it is a collection not only of friends in the narrower sense but also – and above all – of business, political and social contacts. Between 1596 and 1633, emperors and kings immortalised themselves here alongside duchesses and queens, scholars, envoys and military men. These people, and indeed Hainhofer himself, embellished their inscriptions with decorative sheets bearing portraits and heraldic, botanical and allegorical depictions commissioned from well-known and as yet unidentified artists.
Each additional entry of a distinguished name raised the status of the book and with it that of its owner. The names thus formed a network of princes, (court) artists and agents reaching all over Europe whose central figure was Hainhofer himself. The original binding allowed the number of sheets to be varied and the content could thus be adapted to specific diplomatic requirements.
The project aims to identify the authors of the inscriptions as well as the artists and motifs they chose; to transcribe and translate the entries in Latin, French, Italian and German among other languages; and to create an in-depth catalogue of the iconography of the in some cases highly complex illustrations. The project also seeks to identify the geographical context in which the sheets were created as well as the kind of actors involved.
Augustus the Younger, Duke of Brunswick-Lüneburg and ruler of the Principality of Brunswick-Wolfenbüttel, had conducted a long correspondence with Hainhofer and was already aware of the unusual significance of the Großes Stammbuch. Although he tried to purchase it after Hainhofer's death, his attempt failed and the Herzog August Bibliothek did not succeed in acquiring the Großes Stammbuch until 2019/20.
This gem of early modern court and manuscript culture and the art of networking has now been converted into high-quality digital form. While friendship books were a widespread genre in the early modern age, this one is especially striking for its impressive book art, which not only warrants a historical study of its prosopography but also calls for research by art historians.
The project is closely connected with the DFG long-term project 'An annotated digital edition of the Reise- und Sammlungsbeschreibungen of Philipp Hainhofer (1578–1647)' (Dr Michael Wenzel), since Hainhofer's trading activities and his collection of inscriptions by prominent figures naturally entailed extensive travel even if there is not necessarily any direct connection between these travels and the origin of specific sheets.
PURL: http://diglib.hab.de/?link=111

Funded by:
Land Niedersachsen
Kulturstiftung der Länder
Die Beauftragte der Bundesregierung für Kultur und Medien
Wittchow-Aschoff-Stiftung
Ernst von Siemens-Kunststiftung
Stiftung Niedersachsen
Rudolf August Oetker Stiftung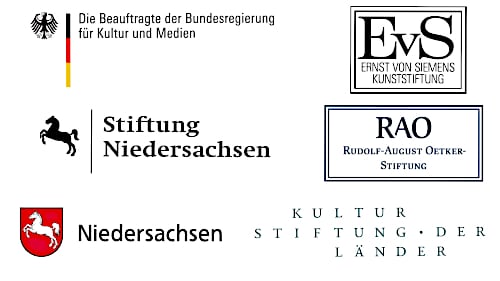 Duration: September 2021 – September 2024
Project participant: Dr Sabine Jagodzinski (team member)