13 May 2022: New measures for Covid-19 prevention
The new measures at the Herzog August Bibliothek to help prevent Covid-19 come into effect on Monday, 16 May 2022. You can find them here.
11 May 2022: Free admission on Museum Day
Sunday, 15 May 2022 is International Museum Day – the perfect opportunity to see the exhibition on the HAB's 450th anniversary in the Bibliotheca Augusta and visit the Lessinghaus too. The Gospels of Henry the Lion and Matilda of England will only be on display in the Schatzkammer (Treasury) until 17 May 2022, which means that Museum Day will be almost the last opportunity for visitors who wish to see the gospel book.
21 April 2022: A call-out to stamp collectors!
On 28 April 2022, stamp fans can purchase the Herzog August Bibliothek commemorative postage stamp complete with a special HAB postmark.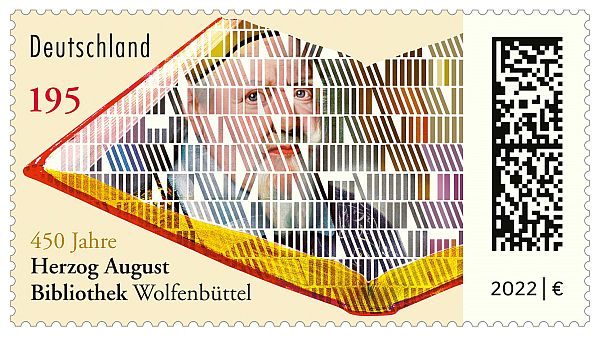 Decorative stationery and special anniversary envelopes will be available along with a wide selection of recently released philatelic delights from Deutsche Post. The sales point will be open on 28 April 2022 from 12 noon to 8 pm.
20 April 2022: Change to the museum's opening times
The museum areas of the Bibliotheca Augusta and the anniversary exhibition We Make Books will close on Thursday, 28 April 2022, at 2 pm to accommodate an event that is taking place.
7 April 2022: Museum opening times at Easter
The museum areas of the Bibliotheca Augusta and the Lessinghaus are open on Easter Monday, 18 April 2022, from 10 am to 5 pm.
On 16 and 17 April 2022 they are also open from 10 am to 5 pm.
The museum areas will remain closed on Good Friday, 15 April 2022.
21 March 2022: Apply now for the International Summer School 2022
31 March 2022 is the deadline for applications to the International Summer School (run by the Marbach Weimar Wolfenbüttel Research Association), which is being held from 18 to 29 July 2022 at the Herzog August Bibliothek. More …
10 March 2022: Beldan Sezen receives the 2022 Artist's Book Prize
The artist and writer Beldan Sezen is to receive this year's Artist's Book Prize, awarded by the Herzog August Bibliothek Wolfenbüttel and the Curt Mast Jägermeister Foundation. Sezen's project will explore voluntary and involuntary isolation through a case study investigating the life of Anton Wilhelm Amo, who arrived at the court of the dukes of Braunschweig-Wolfenbüttel in the early 18th century while still a child; he is now regarded as the first European philosopher of African heritage. The artist will create a walk-in book that follows her concept of 'solitary confinement' – transforming a flat book into a three-dimensional space. More …
8 March 2022: Girls' and Boys' Day
Girls' and Boys' Day will be taking place in Lower Saxony this year on 28 April. From 9.30 am to 2 pm the Herzog August Bibliothek will give students in years 5 to 9 some impressions of a typical day working at an international research institute. The event will take place online.
8 March 2022: Apply now for the fellowship programme for doctoral students
The next application date for the fellowship programme aimed at doctoral students is 1 April. The programme is open for applicants from Germany and elsewhere who are working in disciplines with a historical focus. The key factor is that the topic being investigated necessitates research in the library's holdings. More …
8 March 2022: Extended opening hours in the Zeughaus from 1 April onwards
As part of the plan for gradually reopening the Herzog August Bibliothek Wolfenbüttel, the Zeughaus will open an hour earlier from Friday, 1 April, onwards. The open stacks and the reading room will thus be accessible for users at 9 am.
7 March 2022: The HAB on Google Arts & Culture – Exhibits now available as downloads
The Herzog August Bibliothek is the first institution in the European Union to make its digital exhibits available for download on the internet platform Google Arts & Culture. The process is swift and uncomplicated: just one click and the item is transferred to the user's device. This function is available for all exhibits that are subject to the licence CC BY SA 3.0 and do not involve any third-party rights. Why not try it out at bit.ly/2V8hFM6?
4 March 2022: Until 31 March 2022, ideas are being sought for the workshop 'Intersections of Age and Gender in Pietism'
Call for papers: From 4 to 6 May 2023 the working group Gender & Pietism will be holding an international workshop at the Herzog August Bibliothek, exploring how age and gender are linked with other social categories in Pietism. The workshop will aim to produce a systematically comparative exploration of these intersections. See CfP …
3 March 2022: Solidarity with Ukraine and its people
Ukraine has fallen victim to a brutal war of aggression that contravenes international law. The Herzog August Bibliothek hereby declares its solidarity with Ukraine and its people. Ukrainian scholars regularly come to Wolfenbüttel to conduct their research. We feel a special bond with them and their loved ones in the current situation and want to assure them that they have our full support.
3 February 2022: Online exhibition Caro Giordano – The Artist's Book Prize 2020
The Google Arts & Culture online exhibition about Caro Giordano: Resonanzen und Gestrüpp (Resonances and Thickets) provides annotated insights into this artist's book by Ulrike Stoltz, which was awarded the Artist's Book Prize in 2020.
The project focused on a 1589 letter written by Giordano Bruno which is now held in the Herzog August Bibliothek.
Over the course of a year, the typographer and book illustrator Ulrike Stoltz created a kaleidoscope of texts and images that focused on the philosopher from a range of perspectives and traced various resonant themes.
20 January 2022: Library traineeship at the HAB
The federal state of Lower Saxony is planning to hire a total of eight trainee librarians from 1 October 2022 onwards. The Herzog August Bibliothek is looking for a trainee (male/female/diverse) who specialises in humanities and cultural studies and can demonstrate knowledge and experience of the digital humanities. Applications with all the necessary documentation can be sent to the Herzog August Bibliothek online until 25 February 2022. More …
19 January 2022: The HAB Annual Report for 2020
In our annual report entitled 'Research, Library, Culture' we present not only the usual statistics, data and facts but also notable events and new acquisitions in 2020 as well as fascinating details about how the Herzog August Bibliothek has continued its work during the pandemic. More …
Sponsoringleistungen, Spenden, Schenkungen und Werbungen
Die Niedersächsische Landesregierung hat am 01.04.2014 Änderungen der Richtlinie zur Korruptionsprävention und Korruptionsbekämpfung in der Landesverwaltung beschlossen. Danach sind die angenommenen Sponsoringleistungen, Spenden, Schenkungen und Werbungen mit einem Wert ab 1.000 € im Einzelfall zeitnah zu veröffentlichen. Die angenommenen Leistungen der HAB können Sie für das Jahr 2021 und 2022 einsehen.